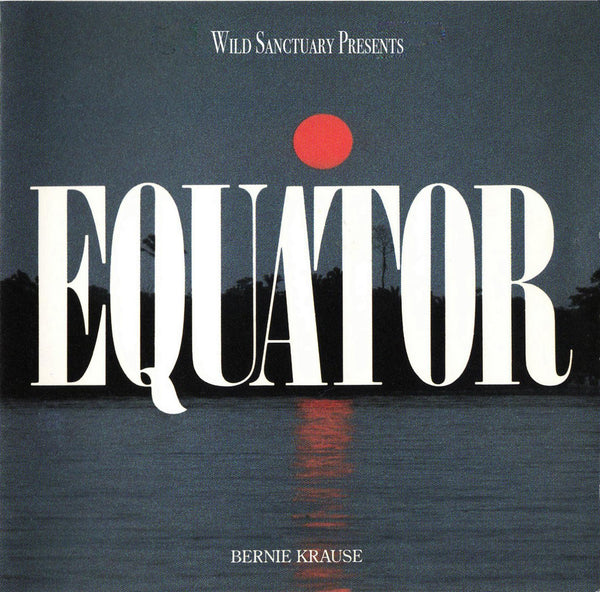 Recordist/Credit: Bernie Krause
A Biophony™ Album
Equator presents a portrait of wilderness animal sounds in the equatorial forests and oceans, spectacularly scored with the synthesized compositions of Bernie Krause, a master of environmental and electronic sound. From African forest and Amazonian ponds to gently rolling surf and and deep ocean voices a magical synthesized score weaves in and out of the ambient sounds.ᅠ
The ambient sounds were recorded by Bernie Krause on a field trip to East Africa sponsored, in part,  by the California Academy of Sciences. The purpose of the trip was to collect environmental and animal sounds for study and exhibit purposes. Beginning at dawn, the piece compresses 24 hours of animal and environmental sounds at an African water hole into just 16 minutes, all textured with different synthesizer layers composed and performed by Krause and forming, in themselves, five distinct musical sections.


STILL LIFE AT THE EQUATOR (Composer/recordist: Bernie Krause), Synthesizers - Bernie Krause, Animal Sounds: Cicadas, Birds (23 species),Colobus Monkeys, Gnus Elephants, Giant Forest Pigs, Hyenas, Tree Hyrax, Tree Frogs, Baboons


SEA DANCE (Composer/recordist: Bernie Krause) Synthesizers- Bernie Krause, Animal Sounds: Spadefoot Toads and Seagulls.


EQUATOR
©  2009 Wild Sanctuary.  All rights reserved.
This is a high-quality zipped album delivered in 192 kpbs MP3 format. This can be listened to on your home computer, burned to a CD, or carry it with you on your iPod or other MP3 player.