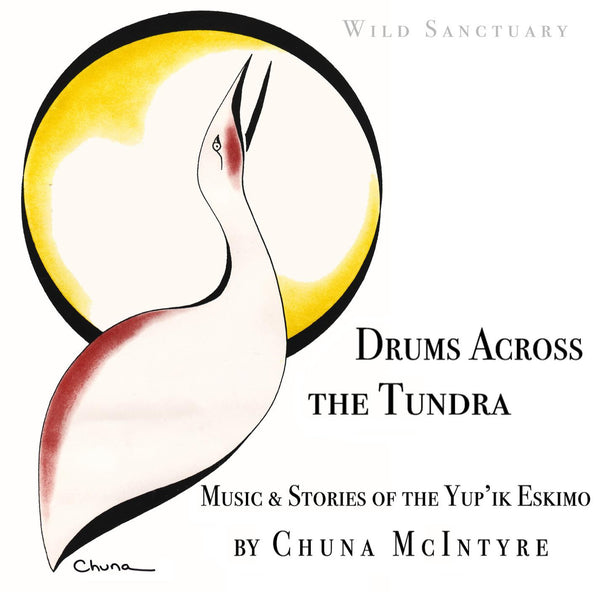 Recordist/Credit: Chuna McIntyre
Produced by Bernie Krause
Music & Stories of the Yup'ik Eskimos

Performed by Native Yup'ik musical artist, Chuna McIntyre, this rare collection of music & stories from Yup'ik Eskimo life is entertaining, educational, and inspiring.
Chuna McIntyre was born in Eek, Alaska, a community of Central Yup'ik Eskimos, on the edge of the Kuskokwim River. The authentic traditional songs on this album were taught by his (then) 91 year old Grandmother, while Chuna's own contemporary versions were constructed from traditional Yup'ik music and stories. His astonishing music and performance art has been presented at the Smithsonian Institute and the Kennedy Center, as well as France, New Zealand, Russia and throughout the world.


1. Thank You Song (3:37)
2. Walrus Song (1:25)
3. He Takes Me on a Journey (3:47)
4. Black-fish Song (5:00)
5. Contact Song (4:20)
6. Thunder Song (3:24)
7. Children's Song (1:34)
8. Potlatch Song (2:26)
9. Caribou with Tallow Behind His Ears (1:39)
10. A Bird Called Qup'anar (5:45)
11. Ancient Song (2:49)
12. Where is My Drum & Drumstick (2:45)
13. Grandmother's Song to the Morning Star (1:53)
14. Hair-washing Song (2:21)
DRUMS ACROSS THE TUNDRA
©  1992 Wild Sanctuary.  All rights reserved. 

This is a high-quality zipped album delivered in 192 kpbs MP3 format. This can be listened to on your home computer, burned to a CD, or carry it with you on your iPod or other MP3 player.