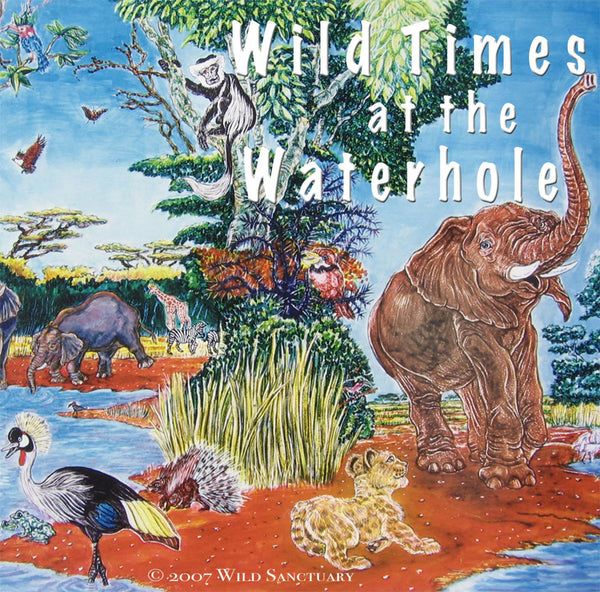 Wild Times at the Waterhole
Recordist/Credit: Bernie Krause, Bob Dorough, & Janice Lawrence

A 20-page downloadable coloring book & Mp3 music album for children with audio clips, songs, and lots of other activities. Fun for all ages!

A children's story about animals told in song and narrative.  Note: The songs, story, and coloring pages are sent as digital downloads.

Wild animals are careful to protect their young. If offspring behave differently than expected, they're often shunned. Based on a true story about a baby lion with hiccups, for this young cat to remain a part of the tribe, he has to rid himself of the problem that is calling unwanted attention to himself and the others - a real danger on the savannahs of Africa. This is his story.

Sung and narrated by Bob Dorough (Children's Television Workshop Award Winner), all of the instrumental background sounds are made from real wild animal voices. No synth. No traditional instruments. The rhythm section is made up of different kinds of fish voices, the back-beats are typically chimpanzees, and lead animal voices are certain birds and whales. 
WILD TIMES AT THE WATERHOLE
©  1992 Wild Sanctuary.  All rights reserved.

This is a high-quality zipped album delivered in 192 kpbs MP3 format and a printable PDF. This can be listened to on your home computer, burned to a CD, or carry it with you on your iPod or other MP3 player.