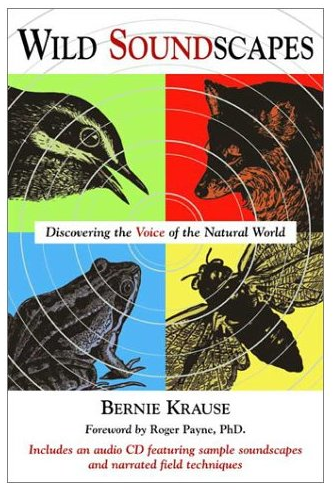 Sold Out
Wild Soundscapes: Discovering the Voice of the Natural World
This product is unavailable
First Edition - Mint Condition - Vintage Collectable
by Bernie Krause
This rare, out-of-print, collectable Book/CD combo is the first comprehensive guide to listening to - and recording - nature. Tune in to nature's biophonies; how to use simple microphones to hear more; and how to record, mix, and play with sounds you gather.  Bernie shares his expertise in exploring nature's soundscapes.
The CD, narrated by the author includes a variety of natural sounds: the crashing sea, the singing of ants, the bugling of Yellowstone elk, the plop of falling Costa Rican crabs, and more - plus shares techniques and tricks for field recording success.
WILD SOUNDSCAPES: Discovering the Voice of the Natural World
©  2013 Wild Sanctuary.  All rights reserved.

Note: This out of print, vintage book can be inscribed by the author with a custom message and/or signature.
Upon purchase, please send separate e-mail to info@WildSanctuary.com stating your purchase number and inscription preference. If it is to be sent directly as a gift, please include compete 'ship to' information.