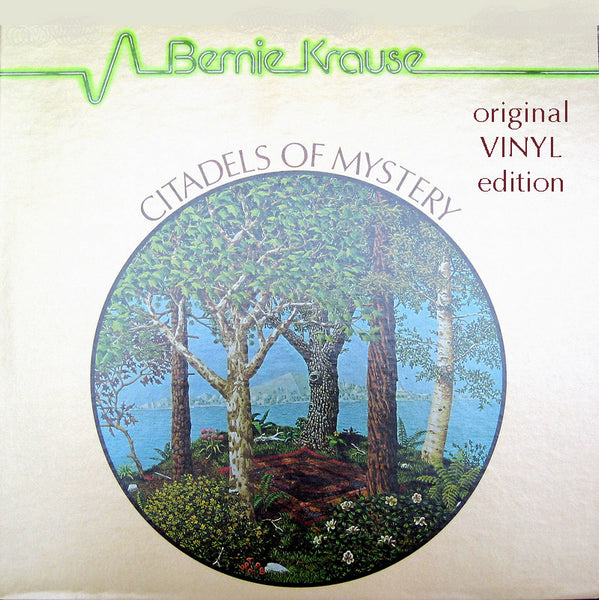 Sold Out
Citadels of Mystery
This product is unavailable
Vinyl LP Album - Mint Condition - Vintage Collectable 
by Bernie Krause & Paul Beaver 
         (Original Mastering | Mobile Fidelity Sound Lab)
An electronic-era classic by Beaver & Krause.  This high fidelity, sealed, LP album set a standard in it's day for for production and innovation.  For a musical tribute to an ancient place and age, it's combination of synthesizer and traditional instruments was ahead of it's time - its beauty and exceptional performance standards still resonate today.  Note: Find the Mp3 digital download version of this album in our 'Soundscape & Music' section.
Side 1: Festival Of The Sun, Heights Of Machu Picchu, Flight To Urubamba. Side 2: Jambo Jambo, Stonehenge: A Mid-Summer's Day Dream, Citadel Ay Bobo.

CITADELS OF MYSTERY
©  1979 Mobile Fidelity Sound Lab.  All rights reserved.

Note: This vintage, collectable LP vinyl album can be autographed by Bernie Krause on the outside shrink wrap or inside cover (wrap removed) upon request.* 
This item requires a 'Ship To' address within the check out process.  *If you'd like it signed, please send separate e-mail, after purchase, to info@WildSanctuary.com stating your purchase number and inscription preference(s). If it is to be sent directly as a gift, please also include compete 'ship to' information. QUANTITIES MAY BE LIMITED.